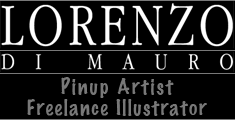 This is the official website of the artist Lorenzo Di Mauro.

All the artworks in this website are copyrighted 1981-2020 by Lorenzo Di Mauro. All Rights Reserved.
No reproduction of any artwork, in any way, is allowed without a written permission of the artist.

A very few pages of this website may contain very light artistic nudity.
If you are not of legal age to view adult content in your viewing area,
please do not enter this site.

This website requires enabling popup windows.




See Pin-Up art, Fantasy paintings, Portraits, Caricatures, original art by Lorenzo Di Mauro.